WORLD

PRESS
Resolutions are in the Works!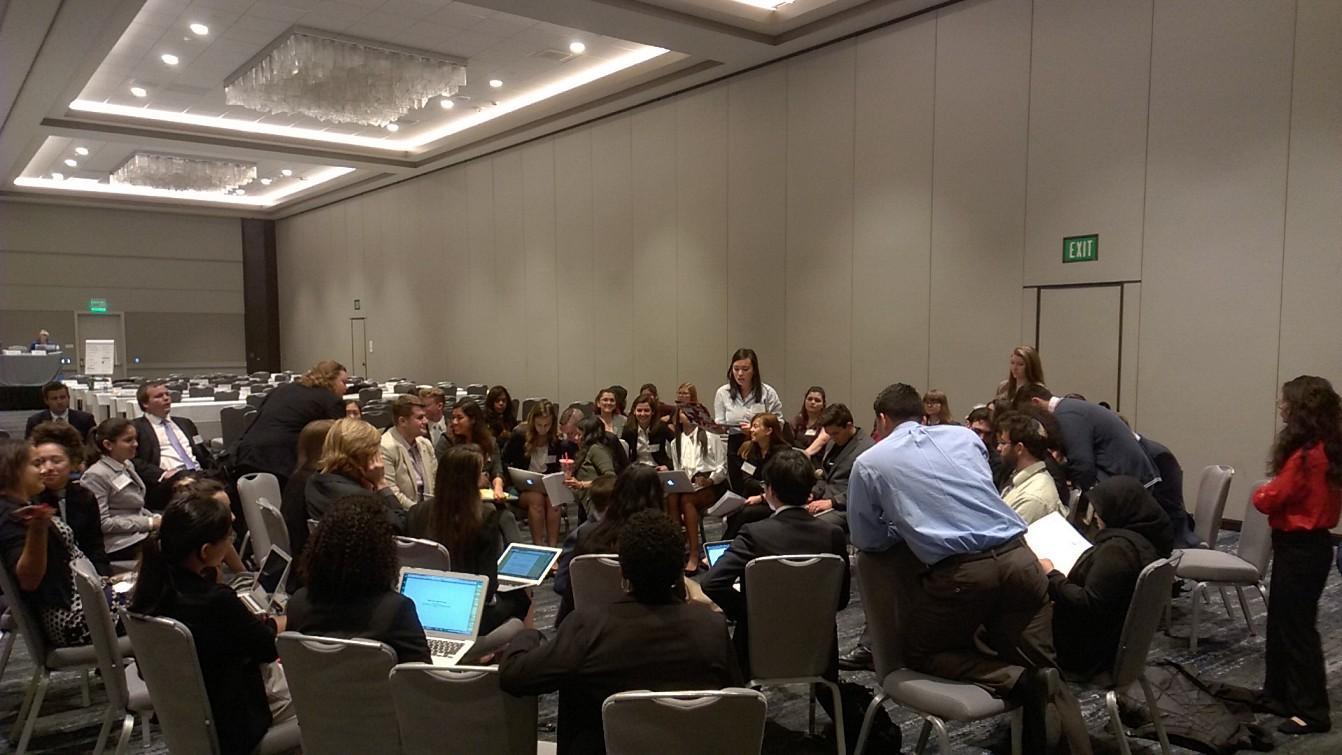 Jack Noll, Iraq- As things in the GA were heating up, the chairs strongly recommended an unmoderated, moderated caucus. The delegate from Iraq led this process and out of 40 amendments, 10 were struck down. Iraq wanted to expedite the process for everyone, and it got the job done with relative ease. As the Chair said, "It went exactly as it was supposed to." The fast acting and successful idea received a warm round of applause by the Chair and body for its organized and quick approach to finding an agreement over their resolution. This made the committee run smoothly and efficiently. After hours upon hours of deliberation, the committee was able to come a consensus and created a ministerial declaration. Seeing no objections with the declaration, it PASSED! The General Assembly will now moved back in general debate on Topic 1: Addressing Global Conflict and Security in the Context of Climate Change, which will hopefully entail the same outcome.
************************************************************************************
We cannot accomplish all that we need to do without working together
– Bill Richardson
************************************************************************************
UN Environment Programme
With 7 working papers, UNEP is not messing around. They have moved into substantive debate on Topic 1: Ensuring Water Security in a Changing Environment and are attempting to combine the 7 working papers, into 3 resolutions.
World Health Organization
WHO has created 3 Resolutions on Topic 1: Pandemics & Health Crisis. Focusing on non-government organizations and bringing them in. The resolutions seem to be centered around Mental Health Education. On topic 2, there are currently 5 working papers that will hopefully be condensed into less.
Commission on Science & Technology for Development
Focusing on issues such as gender equality, women in the work force, urban planning and infrastructure, you would think there would be division. Not for this committee. They have created one cohesive resolution that all countries are supporting. They will move into voting bloc in the morning.
Disarmament & National Security
1st committee is in general debate on topic 2: The Elimination of Illicit Trade in Small Arms and Light Weapons. There seem to be concerns on the illicit trade of small arms and light weapon across international borders. Switzerland is asking for domestically sold guns only. The committee will be moving into voting bloc tomorrow on Topic 2.
************************************************************************************
UN High Commissioner for Refugees
This committee is wasting no time when it comes to the humane rights of children, and are now working on addressing mixed-migration flows. There are 3 working papers on topic 2: mixed-migration flows, and they are currently in substantive debate on this topic. They are expected to move into voting bloc in the morning.
Security Council
Spending your entire conference talking about Syria is not ideal, but it is what's happening in this committee. After numerous unmoderated caucuses, and lots of tears, finally, a consensus was made and the committee was able to move into substantive debate. After general debate on Topic 4: Security Reform finished, the committee quickly rushed into a substantive debate. Tomorrow should be an interesting day for this committee and you should stay tuned.