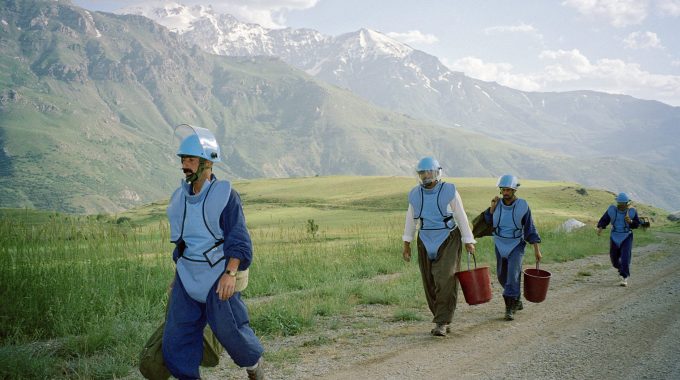 The Elephant in the Room: 4th Committee Focuses on Writing a Resolution for "Assistance in Mine Action" Amidst Landmine Action in Ukraine
According to the United Nations, mine action "entails more than removing landmines from the ground. It includes high impact efforts aimed at protecting people from danger, helping victims become self-sufficient and active members of their communities, and providing opportunities for stability and sustainable development."[1] With a rough start with this morning's virtual hiccups and uncommonly absent delegate presence, negotiations in the 4th Committee have finally started to make headway on the issue "Assistance in Mine Action."
The sponsor states on funding for humanitarian mine action were Austria, Belgium, Finland, France, Germany, Hungary, Iceland, Iraq, Ireland, New Zealand, Norway, Russian Federation, Romania, Senegal,Turkey, Republic of Korea.
Amidst these delegations, political tension between Russia and Ukraine was obvious but subtle. The eerie silence is reminiscent of Katie Bauman's question to guest speaker Erin J Clancy at yesterday's opening plenary session, "Recent images I'm reporting out of Bucha in Ukraine offer some grim reminders of the importance and safety and security of girls and women in armed conflict. And I was hoping if you could speak in your opinion as to what is going on, specifically as to if these issues are sufficiently prioritized at the national level in the UN and if not, how can we fix that?" Erin J Clancy replied, "No, nationally, not just the US, but many, many other governments aren't doing enough to really promote and safeguard women and girls." When asked to comment on crimes against women during wartime, Russia did not respond.
During resolutions, Ukraine made an acknowledgment that comprehensive humanitarian action can only be safely achievable after a region's hostilities have ended, "Being a state that is greatly affected by landmines and Explosive Remnants of War, Ukraine urges further consolidation of the international efforts to carry out robust mine action."
Meanwhile, as delegates continue their work, in Bezhruky, Ukraine, and many more villages, civilians, women, and children are surrounded by minefields.[2]
Delegates were able to pass the "Mine action: Landmine elimination and assisted fund (LEAF)"
(A/71/1/Res. 1) resolution by the end of the evening's session.
---
[1] "Mine Action.United Nations Peacekeeping" . UN.org
[2] Thomas Gibbons-Neff and John Ismay, Land Mines on a Timer, Scattered Over a Ukrainian Town, The New York Times (2022)