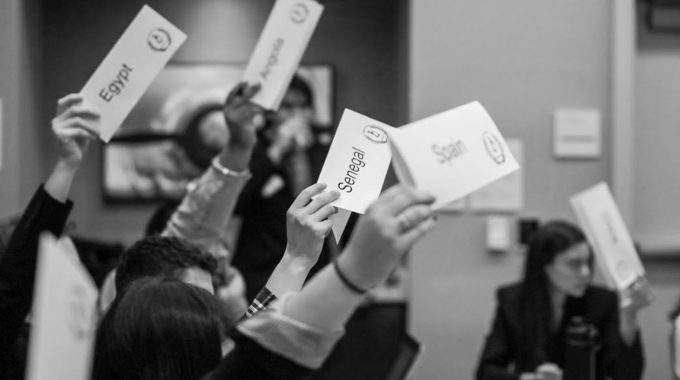 Grace Reeder, Security Council Chair
Grace Reeder graduated from Whittier College in 2019. She got her degree in Political Science and minored in Gender Studies. During her time in Whittier College, she was part of many organizations such as the ASWC Senate, VIP club, Political Science Student Committee, and Pi Sigma Alpha. She is currently based in D.C. having previously worked as a Policy Intern for the Darfur Women Action Group. Grace currently leads the Friday Fundraising Collective, a nonprofit organization she founded in June. The aim of the Collective is to fundraise weekly for organizations uplifting BIPOC individuals and mutual aid. In less than a year, they have redistributed over $150,000 and continue to fundraise weekly. This is her fifth Model UN of the Far West conference and her first time as Chair. 
Erin Clancy, Security Council Chair
Erin Clancy is a public policy manager on Facebook's Strategic Response Policy team where she manages high-profile incidents that affect the business and reputational risk of the company.
Prior to joining Facebook in February 2021, Erin served at the U.S. Mission to the United Nations where she was the lead American negotiator for Syria and Burma from 2017 to January 2021. Her diplomatic career began in 2005 when she was awarded the Thomas R. Pickering Fellowship while a second-year undergraduate at Whittier College. Erin's diplomatic assignments included the U.S. Embassies in Syria, Jordan, Oman, the State Department's Office of UN Political Affairs, and special assistant to then-Deputy Secretary of State Antony J. Blinken. In 2019, Erin received the State Department's highest award, the Distinguished Honor Award, for her role in negotiating the successful evacuation and repatriation of over 400 members of the Syrian Civil Defense (the White Helmets) out of Syria. She is currently a term member at the Council on Foreign Relations and an Atlantic Council LGBTI Foreign Affairs fellow.
Erin is a Model UN of the Far West board member and former MUNFW Secretary-General (2006). She is a graduate of Whittier College and the Fletcher School of Law and Diplomacy at Tufts University.
Jenny Rooper, UNEA Chair
Jenny Rooper is a current senior at Western Oregon University. She will be graduating this spring with a B.S. in Pre-professional Biology with an emphasis in neurobiology. This is her second year chairing at Model UN of the Far West, but has been chairing for the past three years as a whole and has seen many conferences. She is excited to help delegates learn more about the world of MUN and global topics. She also finds that she loves to chair more than being a delegate herself. Jenny is excited to see the various resolutions that will be presented, and passed, at MUNFW this year.
Matthew Stefansky, UNEA Chair
Matthew Stefansky graduated from Western Oregon University in fall 2020 with a degree in Political Science. He has been part of the WOU Model UN program since sophomore year. This is the third conference he has chaired and the first Model UN of the Far West chairing experience. Though his days of being a delegate are behind him, Matthew is enormously proud to once again take part in this experience and continue to work with so many talented and globally conscious delegates once more.
Amber Holland, UNEA Chair
Amber Holland graduated from Western Oregon University in Spring 2020 with a degree in Political Science. She has spent three years on her Model UN club's board, and one year as co-President. Model UN has given her many opportunities such as being able to visit the UN Geneva Headquarters during an international conference. This is her second time chairing Model UN of the Far West and her sixth time chairing a conference. Amber has thoroughly enjoyed all her experiences with MUNFW and looks forward to supporting the program as she continues to Law School in the fall.
Teresa Baranowski, 2nd Committee Chair
Teresa Baranowski graduated from Whittier College in 2010 with a B.A. in Political Science and International Relations. She also received an M.A. in International Human Rights from the Josef Korbel School at the University of Denver in 2014. This is her sixth time attending the Model United Nations of the Far West Conference, and her first time as a chair. Teresa is a Facilities Coordinator for a large private equity firm in San Francisco.
Paris Thomas, 2nd Committee Chair
Paris Thomas is a senior Political Science and Art History student at Whittier College. This is her fourth year of Model UN of the Far West and her first year chairing.
Eliott Bergerson, 2nd Committee Chair
Eliott Bergerson is a senior at Whittier College with a major in Physics/Astronomy and a minor in Political Science. He is also the goalie for the men's water polo team at Whittier College. He recently committed to the University of California, Irvine for a Masters of Engineering and an internship for the Aerospace Corporation. He is one of the chairs for the Second Committee of the Model UN of the Far West. This is Eliott's second time at MUNFW and his first time chairing.
Scarlett Guidice, WHO Committee Chair
Scarlett Guidice is a Whittier College alum of the Class of 2018. She has been working at an immigration law firm and is heading to law school this fall to focus on international human rights and alternative dispute resolution. Model UN has always been one of the main highlights of her time in college and is one of the most formative experiences. This is her fifth time in Model UN and her second time chairing the World Health Organization with Julia Davis. For Scarlett, to be here for the last time as an alum is truly rewarding.
Jewel Henderson, WHO Committee Chair
Jewel Henderson is a fourth-year at Whittier College with a major in Political Science and a minor in French. She is currently working at a Law Firm in Irvine with plans to work abroad and go to Law School eventually after graduation. This is Jewel's third year at Model UN of the Far West.
Julia Davis, WHO Committee Chair
Julia graduated from Whittier College in 2017 with a dual degree in Religious Studies and Political Science, with an emphasis on Genocide Studies and Southeast Asia. She began working at the Holocaust Museum Los Angeles in April 2019, where she is the Associate Manager of Education Programs. Before starting at the museum, she spent a year living and teaching university students in Southern Vietnam, and has traveled to twelve Asian nations. She will be starting law school this summer. Outside of work, Julia loves to run and spend time outdoors, and to cook for her family.
Piper Lowinger, General Assembly Chair
In her four years of experience at MUNFW, Piper has served as a delegate, Permanent Representative, Chair, and now President of the General Assembly. Having graduated from Whittier College in the Spring of 2020 with a self-designed degree in Global Cooperation Strategies, Piper now works for the United Nations High Commissioner for Refugees. Piper plans to pursue a graduate degree in Peace and Conflict Resolution in the Fall of 2022.
Katie Bauman, General Assembly Chair
Katie Bauman is a senior at Heidelberg University in Ohio, majoring in Political Science and minoring in Legal Studies and Psychology. She will be attending law school starting this Fall term. For the Model UN of the Far West this year, she is serving as a chair in the General Assembly. At next year's conference, Katie will be serving as the Secretary-General.
Sara Thornton, CSW Chair
Sara Thornton is a graduating senior at Humboldt State University with a degree in International Studies with a focus on Global Cultural Studies, and a minor in History. As an International Studies major, she had the opportunity to study abroad at Yonsei University in South Korea for a year. Unfortunately, she had to come home early due to the global pandemic to complete her semester at HSU over Zoom. This is Sara's first year participating in Model UN of the Far West and chairing for the Commission on the Status of Women. Sara is excited to be a part of and represent her school in this wonderful organization.
Hannah Martin, ECOSOC Committee Chair
Hannah Martin graduated from Whittier College in 2018 with a Bachelor of Arts in Political Science. After graduating from Whittier College, Hannah worked on a gubernatorial campaign and in nonprofits before starting her own business, Woc Space, to host an online community to empower women and femmes of color. This is their fifth year with the Model UN of the Far West, having chaired twice before, and had been a delegate in the General Assembly twice and in the Security Council once.
Katya Murillo, ECOSOC Committee Chair
Katya Murillo is a Whittier College Alumna class of 2016 where she double majored in Political Science and Spanish. She has since graduated from the University of Pennsylvania Graduate School of Education with a Master's Degree in International Education Development and went on to work with an international non-governmental organization in Washington, D.C. She is currently a first-year doctoral student at the University of Maryland College Park College of Education's International Education Policy Program. Her areas of interest lie in the intersection of migration and education. This is her fifth year of Model UN and second time chairing.
Sydney Thiroux, ECOSOC Committee Chair
Sydney Thiroux is a senior at Whittier College, double majoring in Chinese and Global & Cultural Studies with a minor in Anthropology. On-campus, she is involved in Cru and Food Recovery Network. She is a former writer for The Borgen Project and will be returning as an editor after she graduates. In her free time, she enjoys upcycling clothing, baking delicious treats, and hanging out with her triplet sisters. This is her second year preparing for the Model UN of the Far West conference, and her first year serving as a chair.