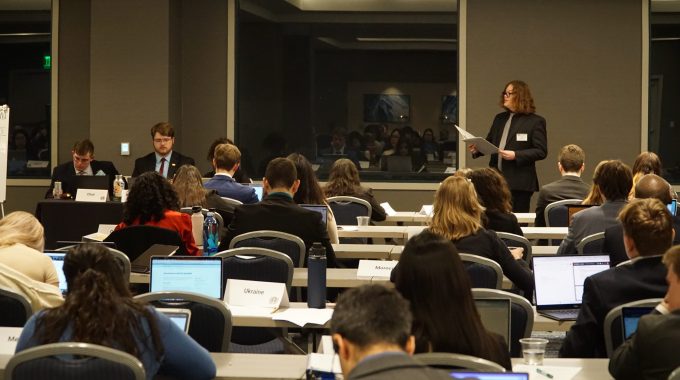 Third Committee Final Resolutions on Unilateral Coercive Measures
Monday, April 24 was the last day for committee sessions, putting the six committees in a race against time to cover the rest of their agenda topics. On Sunday, April 23, the Third Committee successfully passed three resolutions concerning universal access to health care services. On Monday, the Committee passed another three resolutions on unilateral coercive measures and their effects on human rights.
The first resolution passed, A/C3/72/3/1, discouraged the use of sanctions and encouraged member states to "[explore] other forms of diplomatic intervention . . ." The resolution also suggested for member states to consult the UN Human Rights Council so that they may "determine" how unilateral sanctions have an impact on Human Rights. Furthermore, the resolution condemns "economic coercion against developing states," especially when the country being sanctioned is at a disadvantage, economically or politically, to the country sanctioning them. There is also a strong rejection of "sanctions that interfere with supplying food, medicines, supplies, vaccines, and other essential goods which infringe on human rights and affect civilian populations, especially the vulnerable, such as women, children, elderly, refugees, indigenous populations, and disabled persons . . ." Another highlight of Resolution A/C3/72/3/1 is the emphasis on multilateral collaboration among all member states with the goal of increasing diplomacy.
The second resolution that passed, A/C3/72/3/2, was sponsored by Spain along with the following countries: Belgium, Canada, Finland, France, Germany, Guatemala, Japan, Malta, the Republic of Korea, the Russian Federation, Sweden, Ukraine, and Viet Nam. The resolution also encouraged member states to use diplomatic measures and multilateral approaches instead of sanctions or USMs (Unilateral Coercive Measures). However, Resolution A/C3/72/3/2 favored the use of "smart sanctions," which include "restricting the trade of specific resources to hinder the ability of hostile non-state actors." The resolution also requested that the Secretary-General should "assign the responsibility of the HRC in cooperation with the Special Rapporteur to include review dates for all UCMs in order to mitigate the potential infringement of human rights." Regarding Resolution A/C3/72/3/2, the delegate of Spain felt that "it was an excellent resolution which incorporated the viewpoints of its various sponsors effectively, while still addressing the issues brought up by other Member States."
The third resolution, A/C3/72/3/3, passed with a vote of 22-10-18. The resolution also aimed for encouraging member states to exhaust all other options, such as diplomacy and the Department of Peacekeeping Operations, before considering the use of UCMs. Additionally, Resolution A/C3/72/3/3 condemned the "use of widespread economic sanctions" which could significantly affect the well-being of citizens. The resolution recommends for member states to work closely with defenders of human rights to ensure human rights continue to be protected when UCMs are being used against a country. Resolution A/C3/72/3/3 also suggested that "the Office of the United Nations High Commission for Human Rights (OHCHR) establishes an investigative board, tasked with issuing reports and recommendations that focus on civilian protection, especially regarding minority populations . . ." This resolution was greatly supported by Latvia, especially the focus on "utilizing unilateral coercive measures as a last resort."
Unfortunately, the Third Committee ran out of time before it could vote on the resolutions that focused on the right to privacy in the digital age. However, even though the delegate of Spain "has some disagreements with a few clauses of some of the other resolutions," the delegate remarked that he remains "generally happy about the results of the session."
Upon reflecting on the past weekend as one of the Chairs of the Third Committee, Cayden Schroader states, "I think our Committee worked very hard and well together." He mentions the Third Committee passed three of four resolutions on the topic of universal healthcare while "the last one was withdrawn due to the DPRK removing their support [considering] they were the resolution's only supporter." The Committee was then able to pass another three out of four resolutions as described above. According to Chairman Schroader, during the debate and voting on today's topic"the DPRK was at their usual tricks [again] which helped to keep the Committee light and fun." He finds himself truly blessed to "have amazing co-chairs and delegates [which made for] a very productive, but fun committee."
Abigail Sanchez
World Press Editor